Ceremonies und Rituals
There are many situations in life, which could be enhanced by a celebration with a ceremony or ritual.
Of course there are all the profound life changing passages, like the birth of a child, an adoption, the start of school, the passage of a child to adulthood, wedding, divorce, separation, change of residence, retiring, becoming a crone, the death of a beloved person or animal or the point of one's own parting.

Over and above purification and/or blessings rituals can be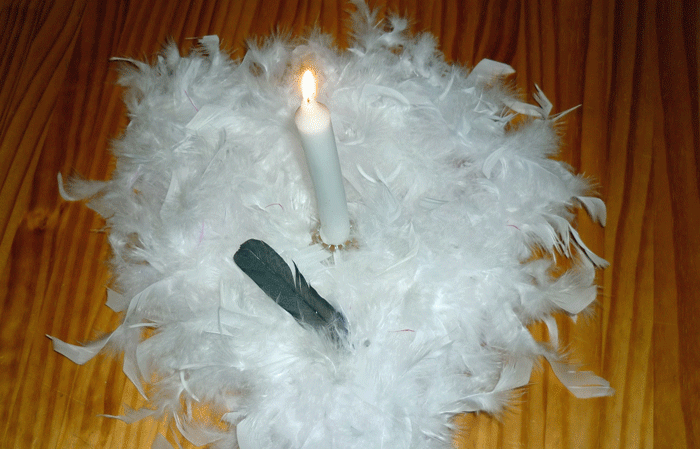 helpful, with which we can consecrate a new flat, celebrating the end of a disease or the start or ending of a project.
For every occasion you want to celebrate with a ceremony, I will work closely with you to ensure that the ceremony will reflect your needs, beliefs and hopes. I can help you build a ceremony that will be very personal.
The process
First you have to call me or send me an email to get in contact with me.
Then there will be a meeting. Gladly I visit you at your home. So you'll feel comfortable. We will talk about your wishes and about some details of the ceremony process.
After that I will write an Outline, to work out a line the concept. I will send the Outline to you, so you will be able to modify the concept with your ideas.
The result will be the base for the first draft of your ceremony, which I will write, its parts of welcoming, main part and ending, with my parts, the parts of special people and, of course, your part.
I will send the first draft to you and will be pleased to receive your feedback.
The second meeting will be at the place where you want to celebrate the ceremony. So I can familiarise myself with the place and its spirits. Furthermore we can see, where the gathering can take place, the positions of the people involved in the ceremony and how the place should be prepared.
The highlight is of course the celebration of your ceremony and - if you decide to do so - a celebration afterwards.
Finally I will present you a personally created folder with the entire ceremony.